Ketchikan: The Salmon Capital of the World
KETCHIKAN GUIDED SALMON FISHING CHARTERS - WHAT TO EXPECT
Ketchikan guided salmon fishing charters offer a bucket list experience with the thrills of  fishing during the wild Alaska salmon run in the world famous "Salmon Capital of  The World." The wild pacific salmon run takes place during the summer months when all five  species return to their home streams to spawn. Salmon fishing charters in Ketchikan offer a  perfect opportunity to capitalize on this annual phenomena, while enjoying the scenic backdrop of Pacific waters teeming with wildlife. You can expect to catch King "Chinook" salmon, Silver "Coho" salmon, Pink "Humpy"  salmon, Sockeye "Red" Salmon, and Chum "Dog" salmon. While the mostly commonly caught species during your Ketchikan salmon fishing charter will be King salmon, Silver Salmon, and Pink Salmon. We do catch Chum and Sockeye salmon on occasion, but not as frequently as the other three species.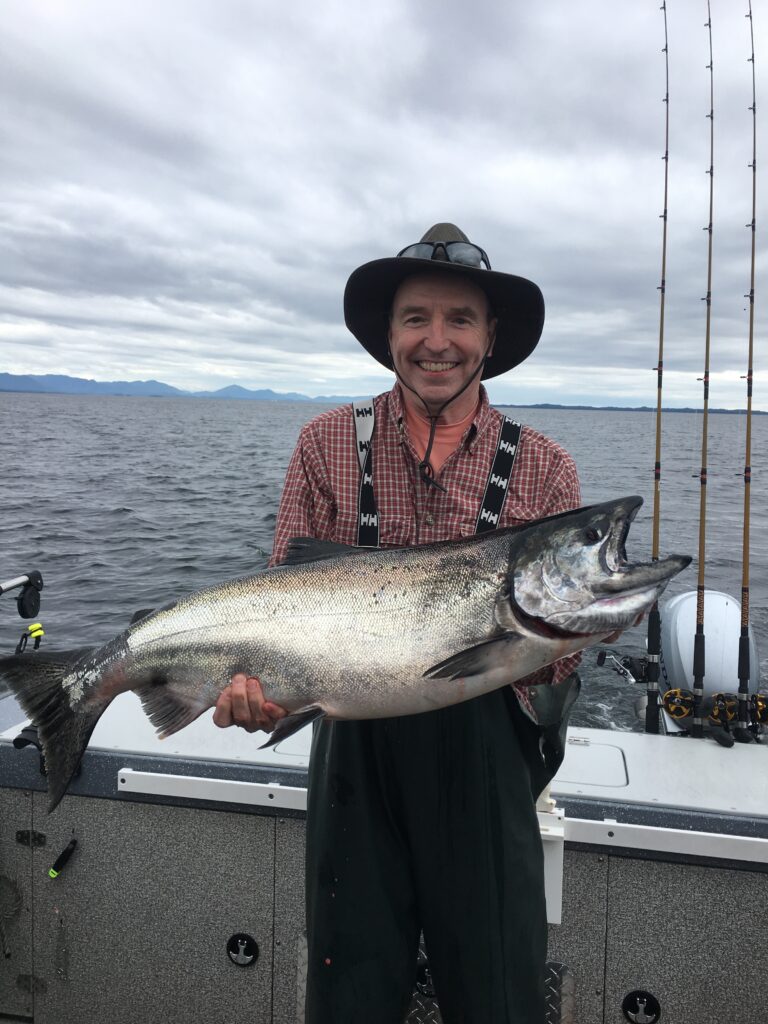 SALMON FISHING IN KETCHIKAN, ALASKA
Salmon fishing in Ketchikan offers the best of both worlds when it comes to guided salmon  charters. Boasting the title of "Salmon Capital of The World" Ketchikan offers world class  salmon fishing just a short boat ride away from the downtown area. This insures you maximize your time on the water and get to salmon fishing in a hurry. Salmon fishing charters in  Ketchikan are a well versed experience for any age or skill level, as the rods and lures are set  out to troll. Your experienced captain will provide expert hands on lessons to all anglers  when salmon fishing. Running a series of down riggers to get the baits and lures to the  appropriate depths maximizes multiple rods and bait setups. Reeling in wild Alaskan  salmon with the assistance of your guide provides your family and friends with a lifetime of  memories.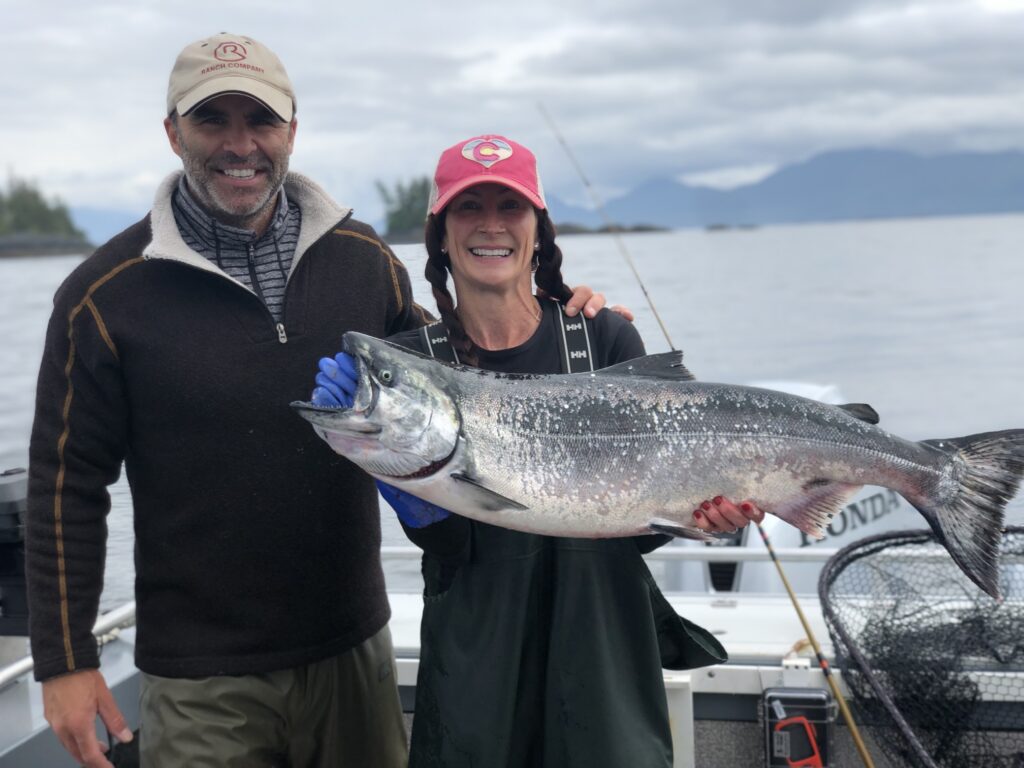 King salmon are the first to show up during the months of May, June and July. King salmon fishing charters will have the most success during the last two weeks of May through the first  two weeks of July. King salmon fishing is  ultimately revered throughout the angling world for their mighty fight and high quality meat.  Considered a trophy fish by most leaves it to be said that every participant on the boat will be  euphoric when a beautiful King salmon comes aboard. 
Healthy King salmon runs are located within miles of town and a short boat ride away with  some of the best King salmon fishing in southeast Alaska. During your salmon fishing charter  you can expect to see wildlife through the duration of your trip. Schools of salmon draw a  crowd! Not only will you see hundreds of salmon swimming upstream by Herring Cove or the  historic Creek street bridge, but you can also expect to see the predatory species who are lying  in wait. Bears, seals, eagles and sea lions wait for the fish to head up stream where a  bottleneck of fish make for an easier meal. Alaska wildlife species thrive on this once a year migration and pack on the pounds for the remainder of the year. 
SILVER SALMON & PINK SALMON
During the months of July through September we see an overlapping run of Silver salmon  and Pink salmon to add to the opportunities of King salmon, Chum salmon and Sockeye  salmon. This is when fishing can be fast paced with multiple hookups and double digit  salmon catches are common. Ketchikan salmon fishing charters during this period have a chance to catch multiple species, and would have one guessing which species of salmon has bitten the line. In order to maximize this opportunity our expertly guided fishing charters know just what to present to entice all the species onto the line, no matter what time of year you book Alaska fishing  adventure.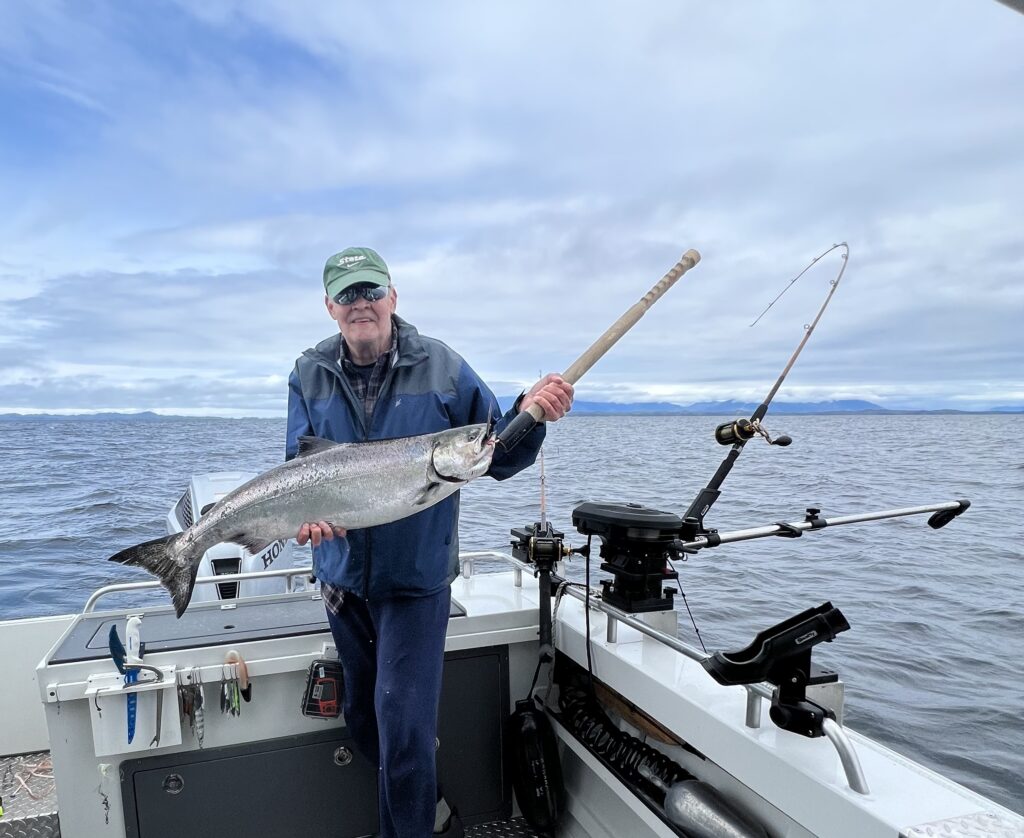 PROCESSING & SHIPPING YOUR CATCH
Processing and shipping your catch highly prized salmon catch will be treated with professional care from the catch to the processor. Our guided salmon fishing charters make sure to use the highest standard in taking care of your catch for  you to ship home and enjoy with all. Prices vary depending on finished weight of the fillets and  includes all processing and overnight shipping via Fed Ex to your home. Your captain will  deliver your catch to the processor and help you complete the shipping forms onboard.  Simply fill out the processing forms with your guides assistance and your catch will be  masterfully filleted, vacuum sealed and flash frozen for your pleasure.  In conclusion, there's no better place to book your Alaska salmon fishing charter then the place that's reputation holds the title "Salmon Capital of the  World".