Does Ketchikan Have Good Fishing?
Yes, Ketchikan, Alaska has good fishing. Halibut, salmon, rockfish and cod can be caught through the year at different times. With that being said, the best fishing in Alaska takes place in the summer months. Ketchikan, Alaska salmon and halibut fishing are excellent from May through September.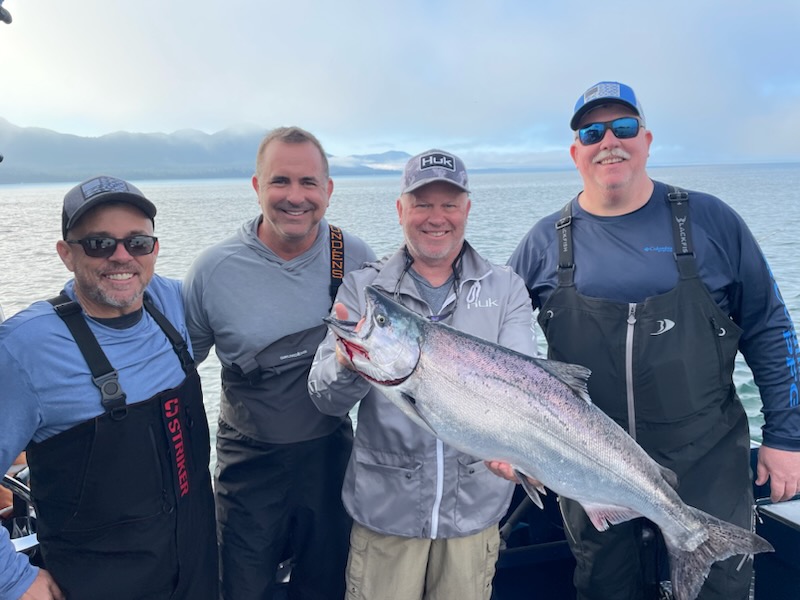 Why Fishing Is Good In Ketchikan, Alaska
Halibut and Salmon Fishing Charters
Ketchikan Alaska has good fishing because of the unique set of circumstances that incorporate southeast Alaska. Ketchikan, Alaska fishing has nutrient rich waters resulting in the best feeding grounds for salmon and halibut. Herring, krill, and candle fish are some of the baitfish that make up the food pyramid. This results in great fishing in Ketchikan year round, as salmon, halibut and cod feast on this amazing resource. Not to mention the perfect recipe for visitors who want a memorable family fishing trip in Alaska.
What Makes Fishing Good In Ketchikan?
Ketchikan's surrounding waters consist of rivers, streams and inlets. This makes Ketchikan a fishery that is an ideal place for salmon returning to their home stream. Additionally, the prolificness of waterways near Ketchikan exceeds that of other areas. This makes Ketchikan the epitome of abundant salmon fishing. In summary, Ketchikan offers the best salmon fishing for visitors. For those who want to book a salmon fishing tour or salmon fishing charter in Alaska.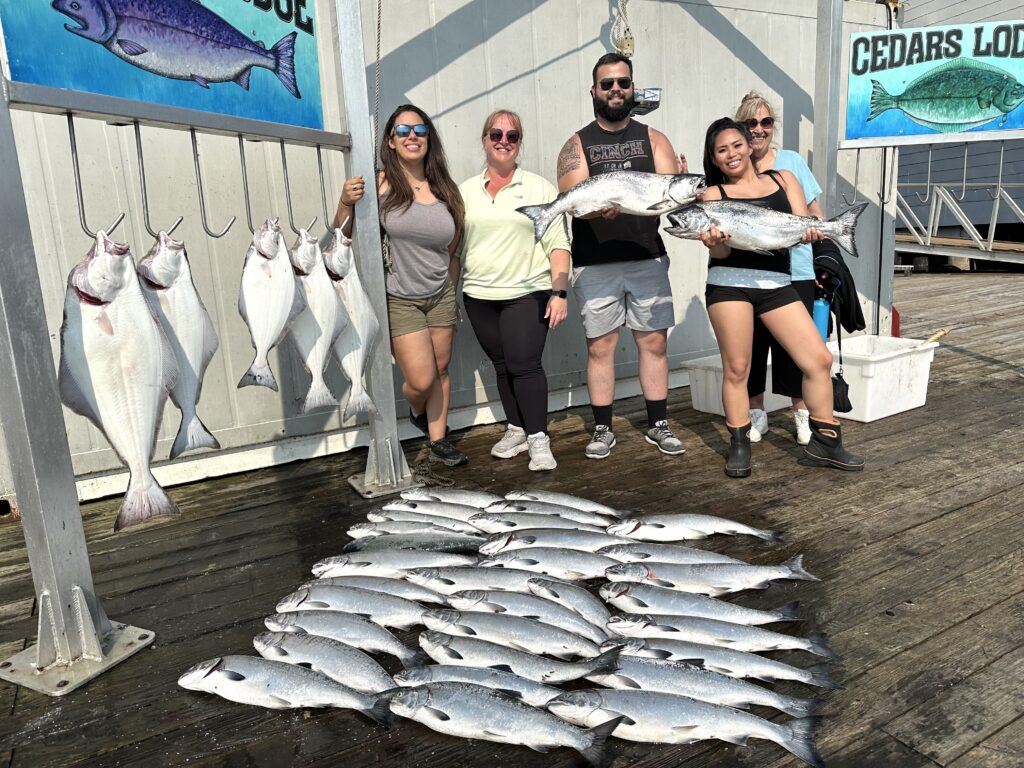 What Fishing Is Good In Ketchikan? 
Halibut and salmon fishing is good in Ketchikan. Not to mention Pacific cod and Ling Cod fishing remains a close second. Pacific cod can be caught while halibut fishing on any Ketchikan fishing charter. In addition, Ketchikan has great rockfish jigging fisheries as well as Dungeness crab and shrimping. Combine any of the above mentioned species for an all species Ketchikan fishing charter. As we specialize in providing unique Alaska fishing experiences based on your families needs. 
Best Salmon Fishing In Alaska – Ketchikan, Alaska
The best salmon fishing in Alaska is located in Ketchikan, ALaska. Salmon fishing for all five species of wild Pacific salmon take place in Ketchikan. Commercial fishing, salmon fishing charters and recreational fishing flourish from May through September. Ketchikan, Alaska processes more salmon than anywhere else in the world. For this reason Ketchikan, Alaska and surrounding waters experience the best salmon fishing in Alaska.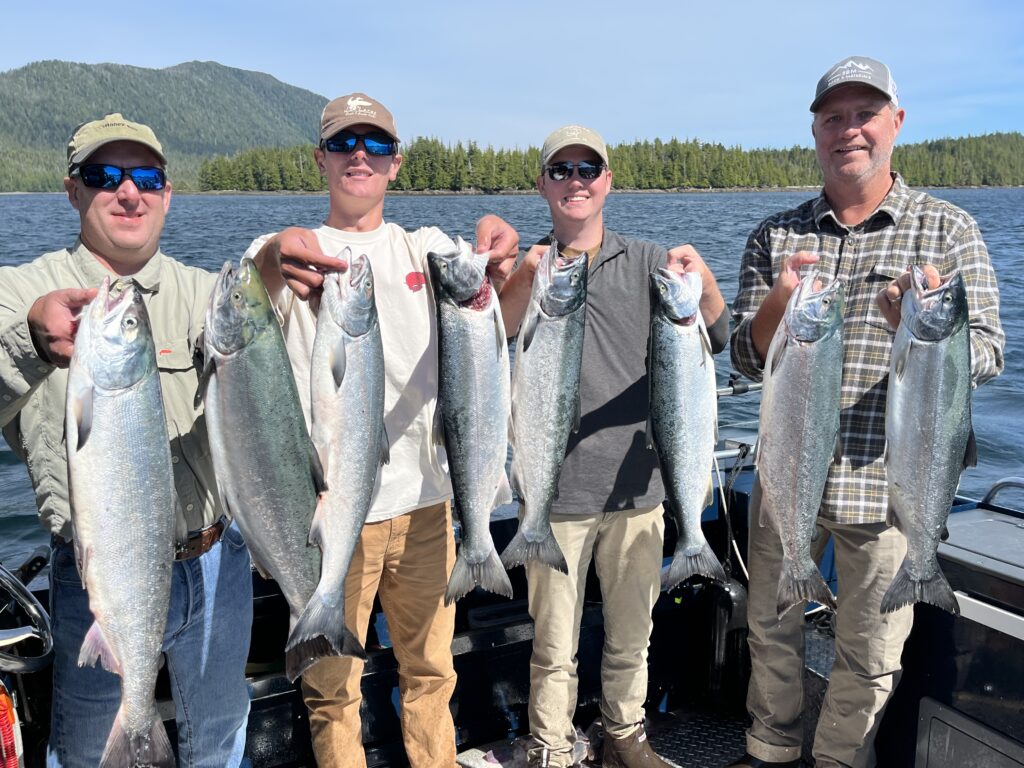 Is Halibut Fishing Good In Ketchikan?
Yes, halibut fishing is good in Ketchikan year round. The peak halibut fishing months in Ketchikan are May through September. Halibut are caught in Ketchikan using halibut fishing rigs fished in waters from 200-400 feet deep. Using chunks of herring, salmon or squid as bait circle hooks on halibut rigs are jigged along the bottom. Once you feel the halibut bite you want to let them eat the bait before reeling down. This ensures the halibut has a good bite on your bait and a well placed hook set with the circle hook. Keep steady tension as you feel up your trophy halibut from the deep waters of Alaska.
Best Halibut Fishing Ketchikan
Ketchikan has some of the best halibut fishing in all of Alaska. Ketchikan halibut fishing charters target halibut in the summer months on pinnacles, sand flats and shelves. The best halibut fishing in Ketchikan takes place about 30 minutes up to an hour from the cruise ship ports and downtown Ketchikan. The prime halibut fishing grounds hold an immense amount of baitfish and crustaceans. The best halibut fishing takes place around the tide change when halibut are moving around seeking out food. For the best halibut fishing in Ketchikan book your Ketchikan fishing trip during the summer months from May through September.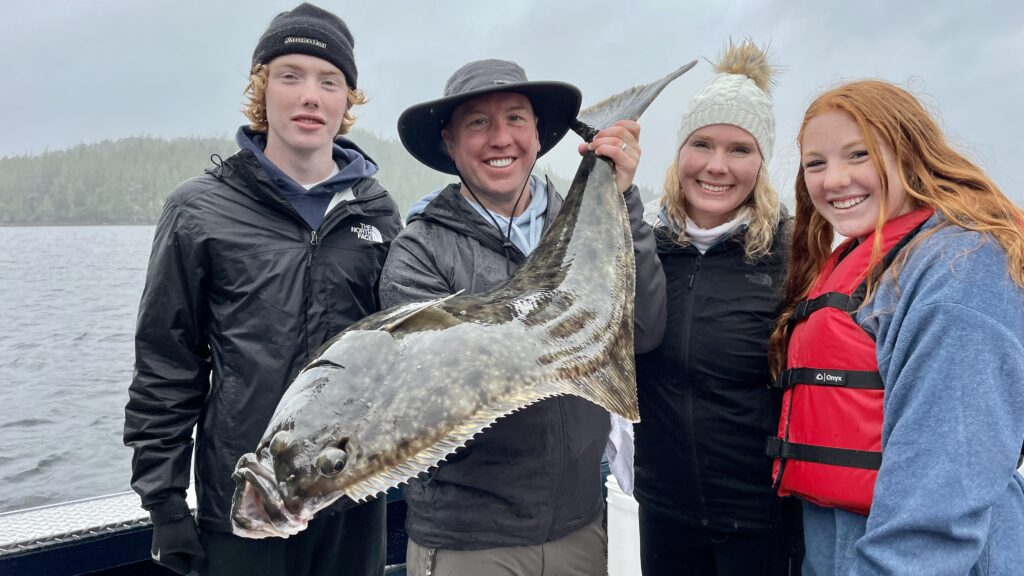 Where To Find The Best Ketchikan Fishing Charter
The best Ketchikan fishing charters are based in downtown Ketchikan near the cruise ship ports. Ketchikan's Finest Fishing Charters operates a five star rated fishing company from the downtown area. We pick you up from your cruise ship and drop off at the cruise ship. Saving you hours of time in transport and spending that time on the water fishing. Not to mention we boast a five star rating across all review platforms including TripAdvisor, Google and Yelp.
Firstly you'll want to book a Ketchikan fishing charter based in the downtown area. This will save you having to take a shuttle or taxi one hour each way up north. Wasting time and going away from the best fishing grounds. In addition to costing hundreds of dollars on transport. To maximize your family's trip and time it's essential to book a fishing charter based at your cruise ship port, located in downtown Ketchikan.