Halibut Fishing Charter In Ketchikan, Alaska – What To Expect
Slightly longer runs to the richest grounds vs salmon fishing
Longer runs mean more scenic boat rides and opportunity to see more wildlife
Chance to catch a huge halibut as big as you!
Opportunity for bragging rights between each other for who caught the biggest and the future tales to come as the stories return with you home
In addition to catching other bottom species such as cod, rockfish, sharks and more
Processing the prized halibut meat and filling your freezers with this high grade white meat fish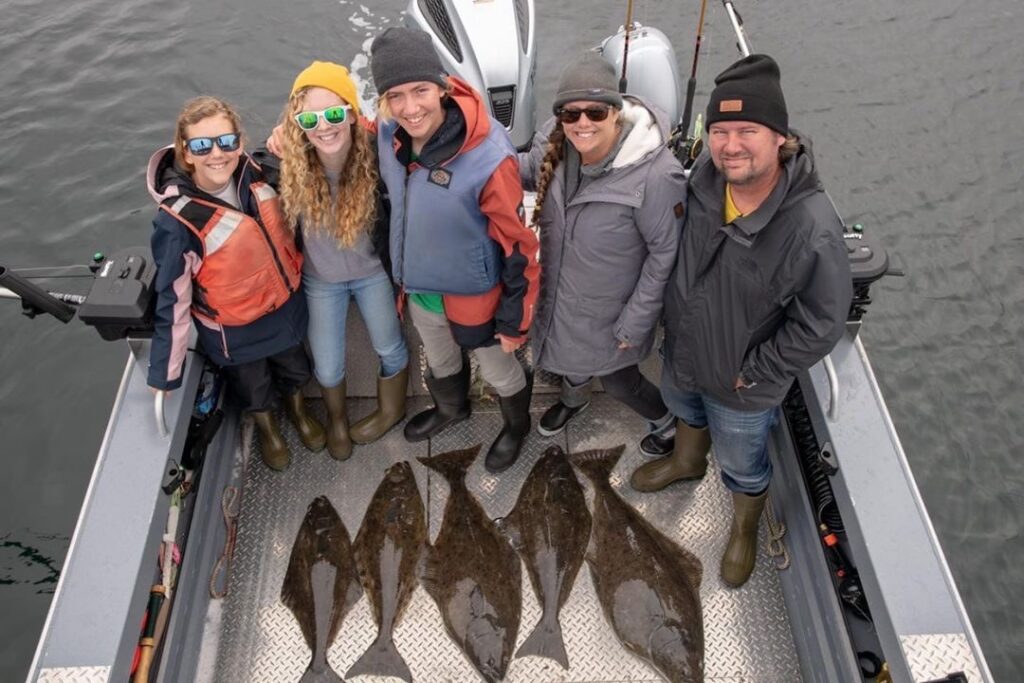 Charter Fishing In Ketchikan, Alaska For Halibut & Salmon –  Combination Fishing Charters 
Simply put, this
combination trip for halibut and salmon
checks all the boxes combining the above mentioned factors of each trip species in one comprehensive Alaskan fishing adventure. Running out to the richest halibut grounds with our fast boats will have you bottom fishing in no time.
Halibut Fishing Ketchikan – Halibut, Cod, Rockfish
Catching halibut, cod and rockfish using top notch gear in a professional Alaskan fishing boat.
Salmon Fishing Ketchikan
Salmon fishing
with specialized trolling gear using multiple lines simultaneously to keep the fish coming over the rails and your group leaping with excitement.
Lingcod And Rockfish Jigging – Ketchikan Fishing
In addition to halibut and salmon this trip also includes jigging for lingcod and rockfish. We fish the richest grounds in Ketchikan where you'll have your choice at what species you want to target depending on the trip length you may have an opportunity to fish for every species in Alaska waters.
In conclusion, full day trips are offered for combination halibut and salmon fishing tours.
Ketchikan Salmon and Halibut Fishing Combination Charter
Certainly longer runs then salmon fishing charters, but similar to the halibut fishing charters. Huge diversity of catches with multiple species being caught on the trip.
Bottom fishing for halibut, trolling for salmon, and jigging lingcod and rockfish.
Lots of opportunity for whale watching and wildlife viewing as we cover so much water in our sturdy fast boats.
Fishing vibrant Ketchikan waters for halibut, salmon, cod, and rockfish with each of the species on target.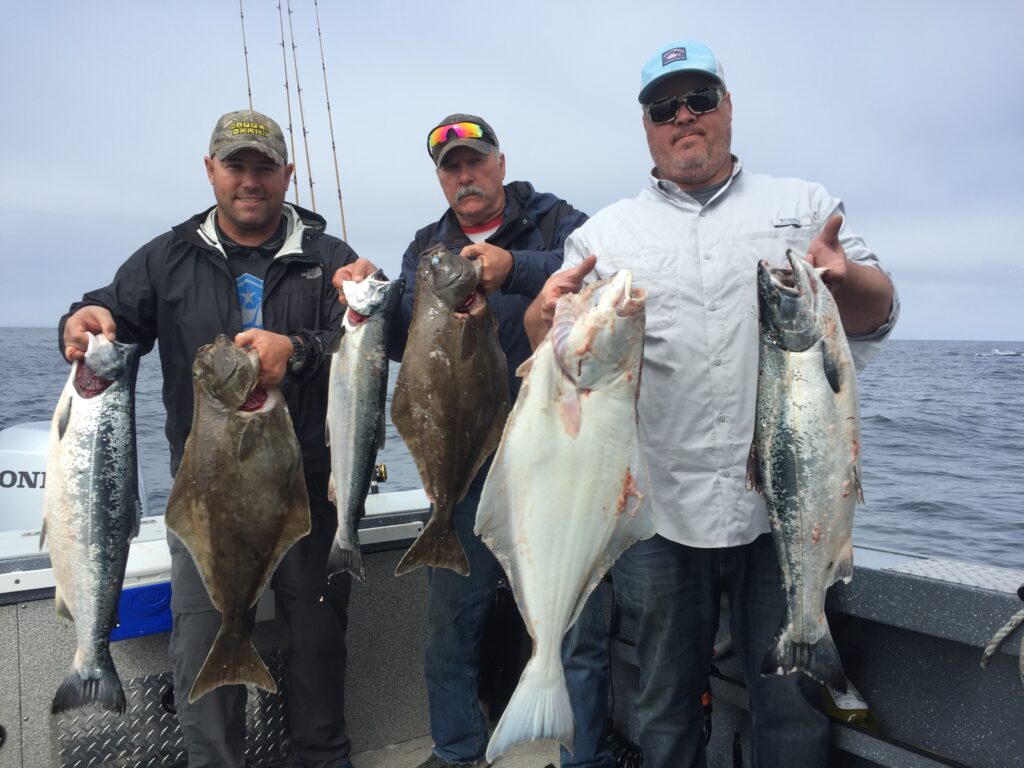 Fish Processing and Bringing Fish Home
We take care of your prized Alaska catch with top techniques for preserving the highest quality meat possible. Bleeding and icing your catch directly upon catching will ensure your catch retains the richest flavor and texture. Dealing directly with a specialized fish processor in town we drop off your catch with the correlating paperwork. In turn they will filet your catch, vacuum seal it and flash freeze it. In addition you'll also have an option to have a portion of your fish smoked.
Shipping Your Alaska Catch
You'll have two options for getting your fish home: First is to have it shipped overnight through Fedex directly to your doorstep or have it securely boxed to put under the plane for your flight home. Prices vary depending on what options you choose, but rest assured your captain will instruct you on the best route to take considering your catch and the circumstances. Furthermore cruise ship visitors will opt for overnight shipping as you can't take fish onboard the ships. Fly-in clients who are staying in town have the option of checking the fish boxes on the plane or sending them through Fedex overnight to their doorsteps. Depending on the flight schedules will dictate what options are best.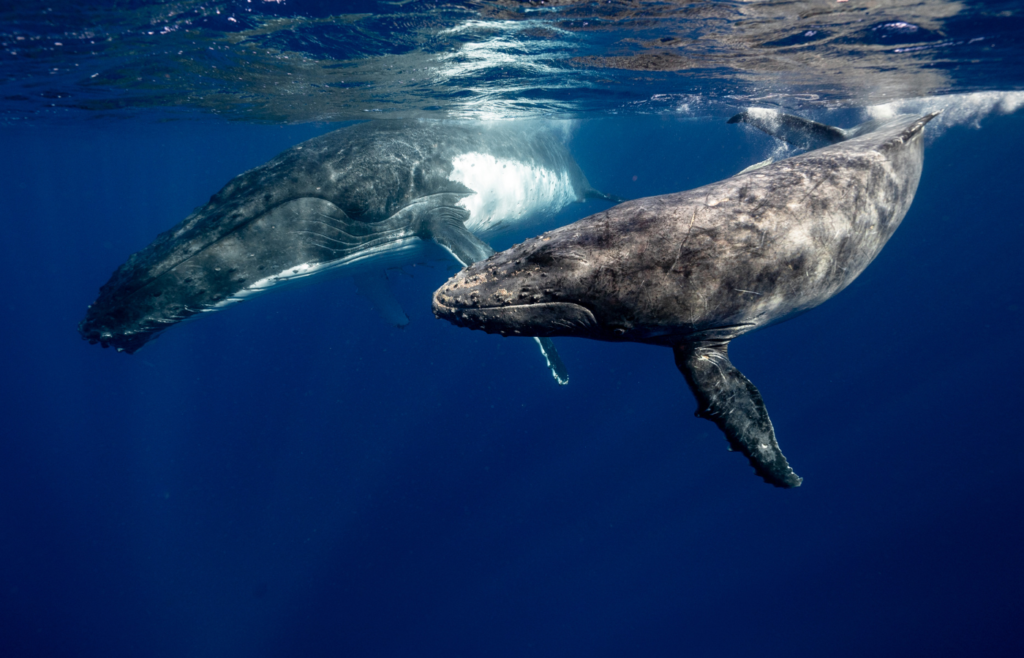 Ketchikan Whale Watching and Wildlife Viewing
Fishing charters in Ketchikan offer amazing opportunities for whale watching and wildlife viewing. Throughout the course of the summer humpback whales frequent the area consistently.
Humpback whales
feeding on herring, krill, and candle fish put on quite the show and are commonly seen on the way to the fishing grounds or right next to the boat while fishing. The reason you're able to see more
whales and wildlife
on fishing charters versus the boats that stay close to town is because we reach the richest waters where the whales concentrate.
Orcas or "KillerWhales"also frequent the waters surrounding Ketchikan, Alaska feeding on salmon. Their favorite fish to hunt is the king salmon, but also enjoy silver salmon. For this reason, we see the most during the height of those two species runs. There isn't anything that can beat a
pod of Orcas
corralling salmon, jumping and tail slapping effortlessly. Other wildlife you may see are listed below:
Humpback Whales
Orcas 
Sea lions
Harbor Seals
Eagles
Bear
Deer
Starfish and more
Ketchikan Cruise Ship Fishing Shore Excursions
Salmon Fishing Ketchikan, Alaska Cruise Ship Visitors
Visitors arriving by cruise ship have quite the array of options to choose your perfect Ketchikan cruise ship shore excursion. While there's everything from wildlife tours to lumberjack shows and on and on. In spite of that, we think it's best you get out on a private excursion to see Southeast Alaska at its best. Your time in Port is short and you should maximize by choosing an excursion that does just that.
That's why all of our fishing and wildlife excursions pick you up right from the ship. Once you disembark your cruise ship you'll see us waiting at the ramp with a sign with your name. From there we head directly to the dock and get on the boat where the real adventure begins. Not wasting your time with long bus rides and taxi rides to the north end of town where you're going to waste hours of precious moments in town. 
Ketchikan fishing and wildlife shore excursions to highlight the best  
The four hour
salmon fishing excursion
ranks among the top picks for cruise ship visitors as a great way to get to the world class salmon fishing grounds while wildlife viewing is included. If it's halibut you're after, then pick from the five hour halibut fishing excursion or the five hour combo fishing excursion. If fishing isn't your thing but you want to go on a private whale watching boat and wildlife tour, then choose our excursion that offers both. 
In addition to whale watching and wildlife viewing, we add on an authentic Alaskan Picnic with smoked salmon, crackers, cream cheese, red onions and capers! Choose from any of the above options for the best Ketchikan Cruise Ship Shore Excursions.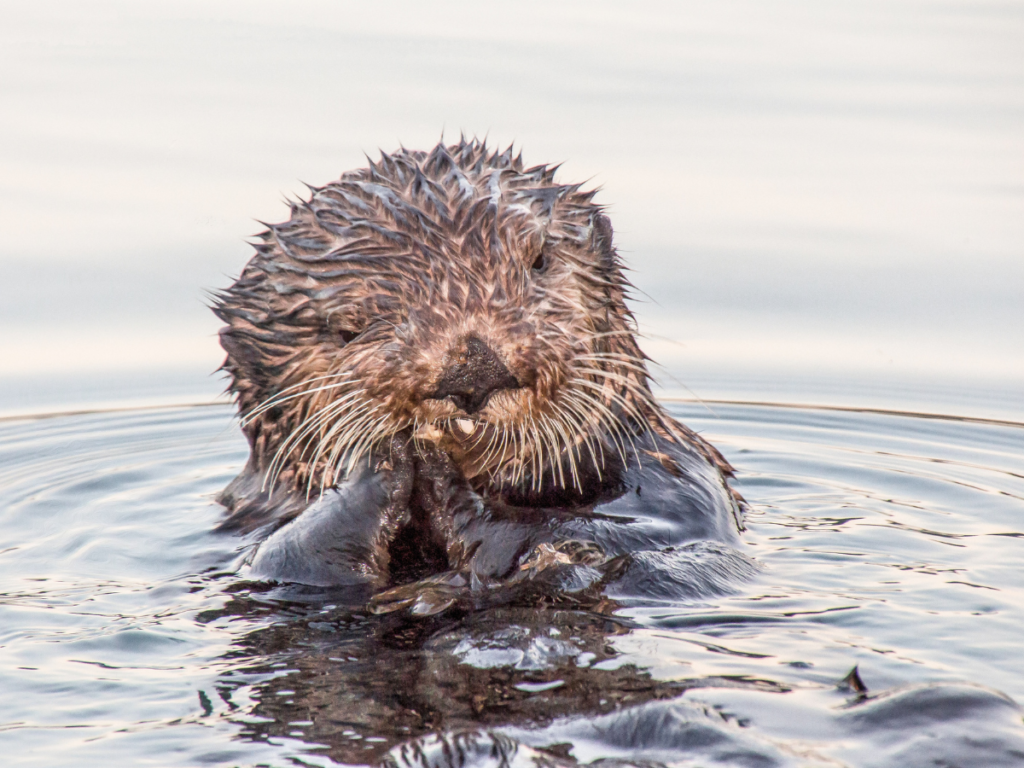 Charter fishing in Ketchikan, Alaska for Halibut and Salmon: Frequently Asked Questions
Private Fishing Excursions Ketchikan
All of our trips are private and can accommodate up to 6 passengers with all ages welcome. We provide trips customized to any group and look forward to speaking with you about the many options and services available to you. No matter your age or experience level we offer something for everyone.
About this Ketchikan Cruise Ship Fishing Shore Excursion
Designed to bring you the best Halibut and Salmon fishing charters in Ketchikan
Catch Halibut and Salmon along with cod and rockfish 
Whale watching and wildlife viewing
Expert captains with state of the art equipment
Fastest boats bring your group to the richest fishing grounds.
Our custom designed boats are built to have up to 6 lines in the water at once! This unlike other charters maximizes your opportunities and keeps everyone with a chance of catching.
Ketchikan Fishing Excursion: What's included 
Professional Fishing Gear, Tackle and Bait
We provide state of the art fishing gear so you don't have to worry about bringing anything. If you have a sentimental rod that you've always wanted to fish in Alaska, so feel free to bring it along. In any case, we have all the gear, bait and tackle covered.
Bottled Water and Sodas
Plenty of water and sodas onboard to keep you hydrated. You're welcome to bring any other drinks or food you would like for your day of fishing.
We have room to store food and additional drinks onboard.
Coast Guard Approved Vessels And Safety Equipment
Required USCG approved safety gear
Our licensed US Coast Guard captains will have all approved safety gear required and be pre inspected by the Coast Guard prior to the season. This also includes specialty safety equipment for children.
Ketchikan Cruise Ship Fishing Shore Excursion: What to Wear 
Rain Ponchos and Rain Gear: In the case of rainy weather we provide gear to keep you dry. While we recommend you bring rainproof clothes and shoes if it's really pouring out we have commercial grade rain gear so you're comfortable during your fishing trip.
Enclosed Cabin with porta potty and privacy curtains: Our boats are outfitted with a porta potty and privacy curtains. While out on the water this feature gives you peace of mind when duty calls.
Ketchikan Cruise Ship Fishing Shore Excursion – 
Fish Processing and Shipping
Delivery of your catch to Fish Processor: Delivery of your fresh Alaska catch directly to the fish processor. We take the time to treat each fish with care and handle it delicately. Furthermore we take your catch directly to the processor with your paperwork. Finally, the processor will ship your catch overnight to your door. On the contrary you can have your catch boxed up to check under the plane.
Ketchikan Cruise Ship Fishing Shore Excursion: What's Not Included
Sport Fishing Licenses 
King Salmon Stamp: If fishing for king salmon during the season
Fish Processing Fees 
Gratuities
Local Sales Tax
Ketchikan Cruise Ship Fishing Shore Excursion: What To Bring
Camera
Sunglasses
Sunscreen
Snacks
Dress in layers with rain-resistant or rainproof outer layers
Rainproof or rain-resistant boots
Fishing License printed copy buy here
King salmon stamp if fishing for king salmon, ask your guide about when's the best time to fish for king salmon prior to the trip.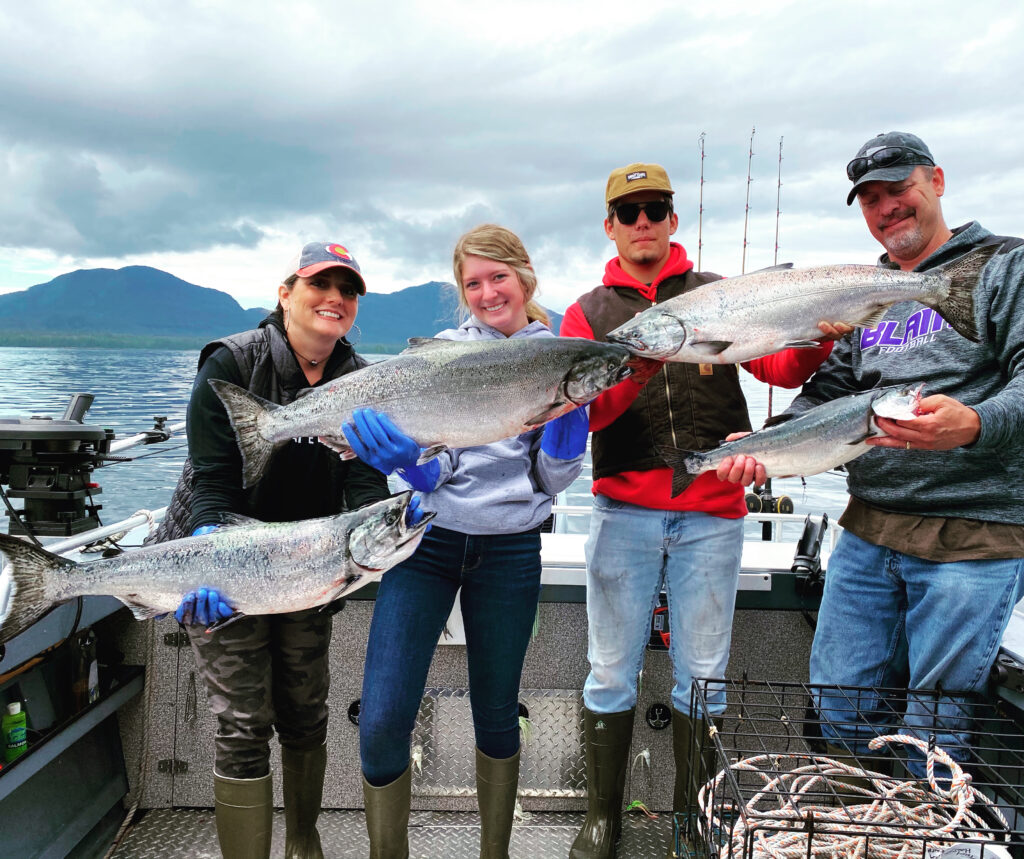 Adventure Awaits, Book Your Customized Alaskan Fishing Adventure Now!
Ketchikan's Finest Fishing Charters offer the premier guided fishing service in all of Ketchikan. We take the guesswork out of your
Alaska fishing adventure
. Setting  you up with the most expert captains on the best boats. Having a track record for excellence as seen through our reviews on TripAdvisor and Google paints a clear picture. 
All you have to do is inquire about when you're arriving, what you want to catch and we'll set up a completely customized trip for your group. We also fish directly out of the downtown area. Whereas you don't have to book a taxi or take a bus to fish up north where you're shuttled 30-45 minutes away.
Consequently from town and away from the best fishing grounds. In conclusion this means more time for your group fishing at the best fishing grounds. So sit back and relax. You've already done the right homework to find the best charter fishing experience for your group.