Salmon fishing
in Alaska offers something for everyone! The allure of the fight and the relish of victory when getting a salmon boatside. No matter if it's the mighty King salmon or the feisty silver salmon.
Ketchikan salmon fishing
charters offer it all as the "Salmon Capital of The World." For that reason, we've compiled a list of factors to consider when booking a Ketchikan fishing charter.  Furthermore what to expect for salmon fishing in Alaska.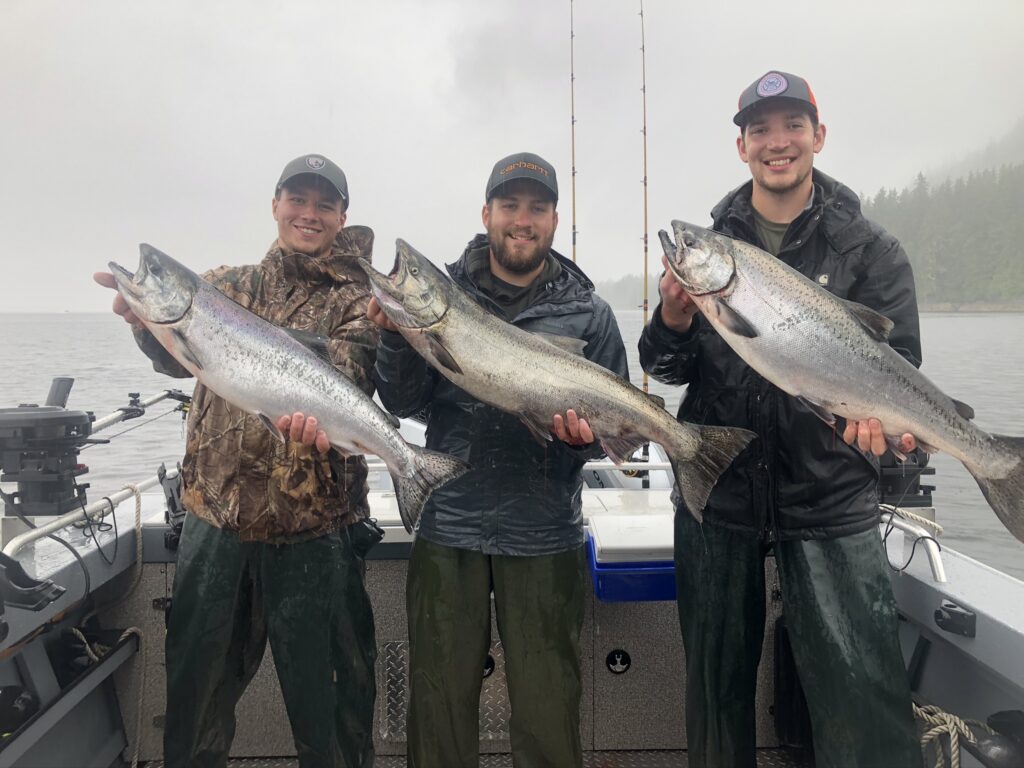 Ketchikan Salmon Fishing – Top Rated Excursion For Cruise Ship Guests Visiting Ketchikan
For starters, Salmon fishing in Ketchikan offers great convenience for those on shorter stays or with a shorter duration trip. Owing to the
annual salmon migration
that leads right to the waters in and around Ketchikan.
The boat rides to the world class salmon fishing grounds are so close to our downtown ports that you can be fishing in a matter of minutes. Consequently making it a top trip choice for cruise ship guests or groups looking for a four to five hour
Ketchikan salmon fishing
shore excursion. Less run time and more fishing time.
In addition there's no experience needed! Salmon fishing charters are a great way to spend the day in Ketchikan. Despite your age or experience level the guide will set up everything for your group's success.
Ketchikan Salmon Fishing Charter – Equipment
Using specialized fishing equipment with light tackle rods and soft tips meant to absorb salmon head shakes.
Salmon reels spooled with 20-30 lb monofilament line with drag systems adjusted accordingly 
Electric down riggers with 12 pound cannon balls designed to bring our flashers and lures to the appropriate depths, sometime in excess of 150 feet down
Of course we use the best lures for salmon including spoons, artificial squid, flies and herring
The best Ketchikan salmon fishing charters troll for salmon as we do. As a result the captain will set up the lines, and you'll be awaiting the tell tale signs of a strike.
Catching Salmon In Ketchikan 
As revealed by the rod flicking up you know you have a salmon on the line, and you'll set the hook. Most salmon are hooked while trolling, as a result, you'll only need to grab the rod and start reeling.
Catching salmon in Ketchikan, Alaska is best approached with finesse due to the light tackle. Indeed the hard fighting nature of salmon means keeping a steady rod angle with the tip slightly bent all the more important. In addition make sure to have a continuous retrieve on the line, giving you the best opportunity to land your trophy salmon. Finally our captains will give you step-by-step instructions to assist you guiding them right to the edge of the boat.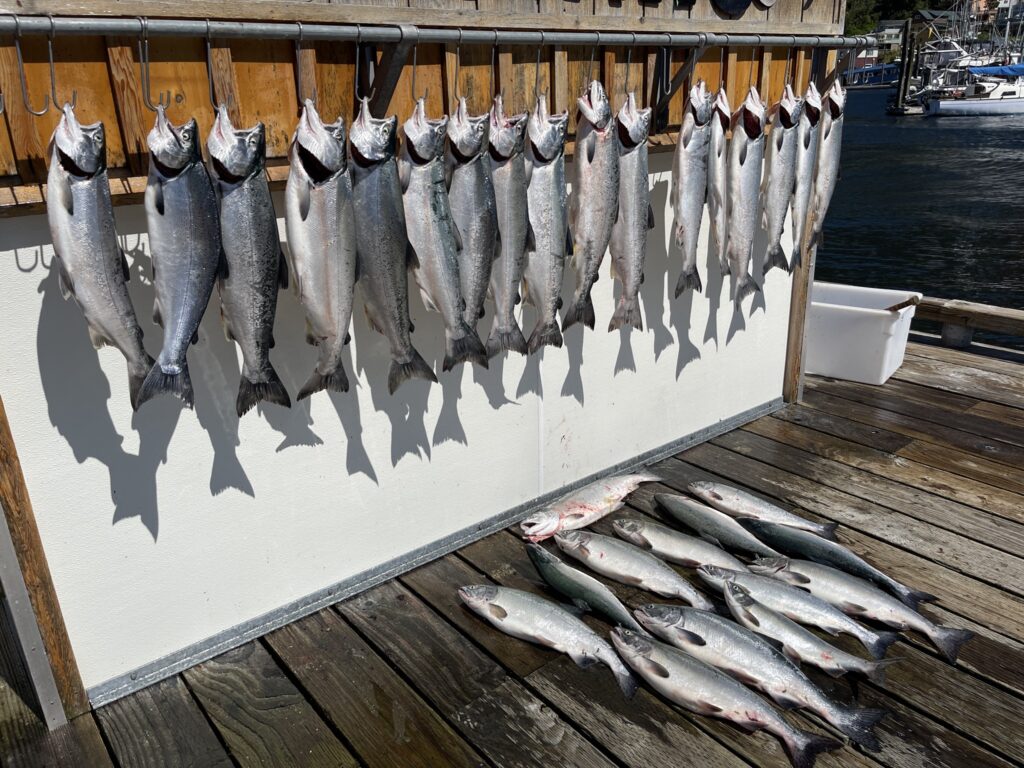 Landing All 5 Species of Alaskan Salmon
However, once the salmon is boat side the fight isn't over. In other words your captain will instruct you to guide the salmon into a pattern. Finally, they will net your catch with a specialized salmon net and you'll be ecstatic the battle is over.
Salmon fishing in Ketchikan
provides a sense of anticipation along with adrenalin. It's excitement when they're on the line, followed by euphoria when the salmon is finally secured in the net.
Best Time To Fish For Salmon In Ketchikan, Alaska
Salmon feed depending on the time of day and the tidal influence. Nevertheless the best time to fish for salmon in Ketchikan, Alaska is
June through September.
Salmon Fishing in Ketchikan, Alaska : What to Expect
While there's shorter runs to the richest grounds vs halibut fishing
In addition to shorter runs mean more time fishing and less time riding
Furthermore a chance to catch huge numbers of fish! For this reason the daily retention limits exceed the numerical numbers of halibut fishing 
Opportunity for bragging rights between each other for who caught the most fish and the future tales to come as the stories return with you home
Processing the prized wild Alaskan salmon and filling your freezers with red/ orange meat fish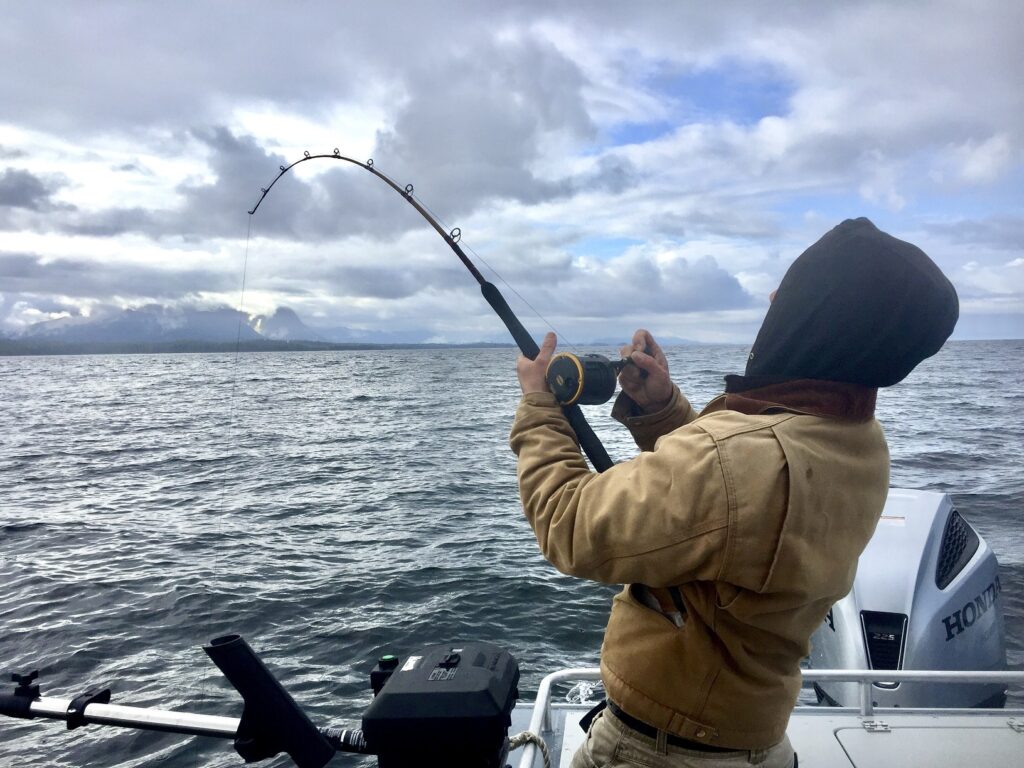 Adventure Awaits, Book Your Customized Alaskan Fishing Adventure Now!
Ketchikan's Finest Fishing Charters offer the premier guided fishing service in all of Ketchikan. We take the guesswork out of your Alaska fishing adventure. Setting  you up with the most expert captains on the best boats. Having a track record for excellence as seen through our reviews on TripAdvisor and Google paints a clear picture. 
All you have to do is inquire about when you're arriving, what you want to catch and we'll set up a completely customized trip for your group. We also fish directly out of the downtown area. Whereas you don't have to book a taxi or take a bus to fish up north where you're shuttled 30-45 minutes away.
Consequently from town and away from the best fishing grounds. In conclusion this means more time for your group fishing at the best fishing grounds. So sit back and relax. You've already done the right homework to find the best charter fishing experience for your group.