In this article we are going to discuss the various methods of how to catch halibut in Alaska. Ketchikan halibut fishing charters target halibut multiple ways. For this reason we're going into great detail about the various methods used to catch halibut in Alaska. Furthermore you"ll learn which techniques work best and why.  
First and foremost there are three distinctly different techniques when fishing for halibut in Alaska. The most common way to fish for halibut in Ketchikan, Alaska is from a boat. Halibut fishing consists of three main techniques; anchoring, back trolling or trolling. Finally, we will discuss what methods work best and what conditions are ideal for each method.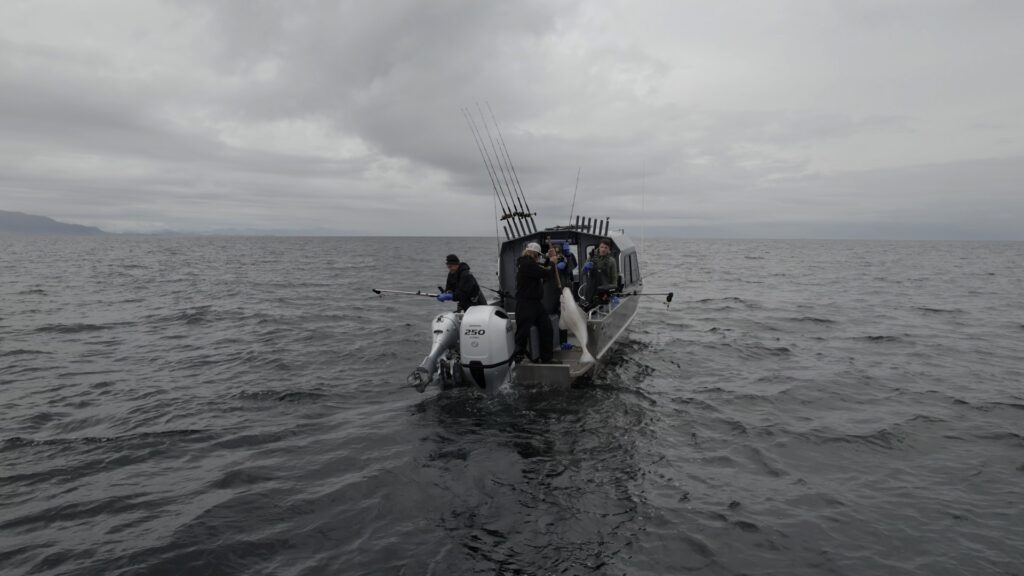 Halibut Fishing Ketchikan – Tactics & Techniques
Halibut Fishing – Anchor 
For example, the primary method for halibut fishing in Ketchikan involves anchoring on your halibut fishing spot. Halibut fishing spots range in depths from 40 feet to 500 feet deep. In this case, you'll drop halibut fishing rigs down to the bottom. Then you'll work the halibut rigs near the bottom and just above the bottom.  
For one thing, anchoring properly entails releasing the anchor with plenty of chain and line attached. Of course, so it can reach the bottom depending on how deep you are fishing. Finally make sure to have plenty of scope out so your anchor secures to the ocean floor. Otherwise the waves and tide may force you to drag the anchor. 
Benefits of Anchoring For Halibut Fishing
The top benefits of anchoring for halibut fishing in Ketchikan has to do with how halibut find their food. Halibut hunt for their food mainly by smell and scent. Consequently if you anchor in a good halibut fishing spot the halibut will come to your halibut fishing baits. Therefore by using this technique you give yourself a great opportunity to catch halibut. As a result the scent trails from your baits carry down the current, where nearby halibut will follow it back to your halibut fishing rig. 
In this case, anchoring permits powerfully scented baits to work in your advantage
Furthermore, anchoring gives one the ability to run multiple halibut rigs and baits simultaneously
Lastly, anchoring for halibut provides minimal effort in maintaining the boats position over the halibut fishing spot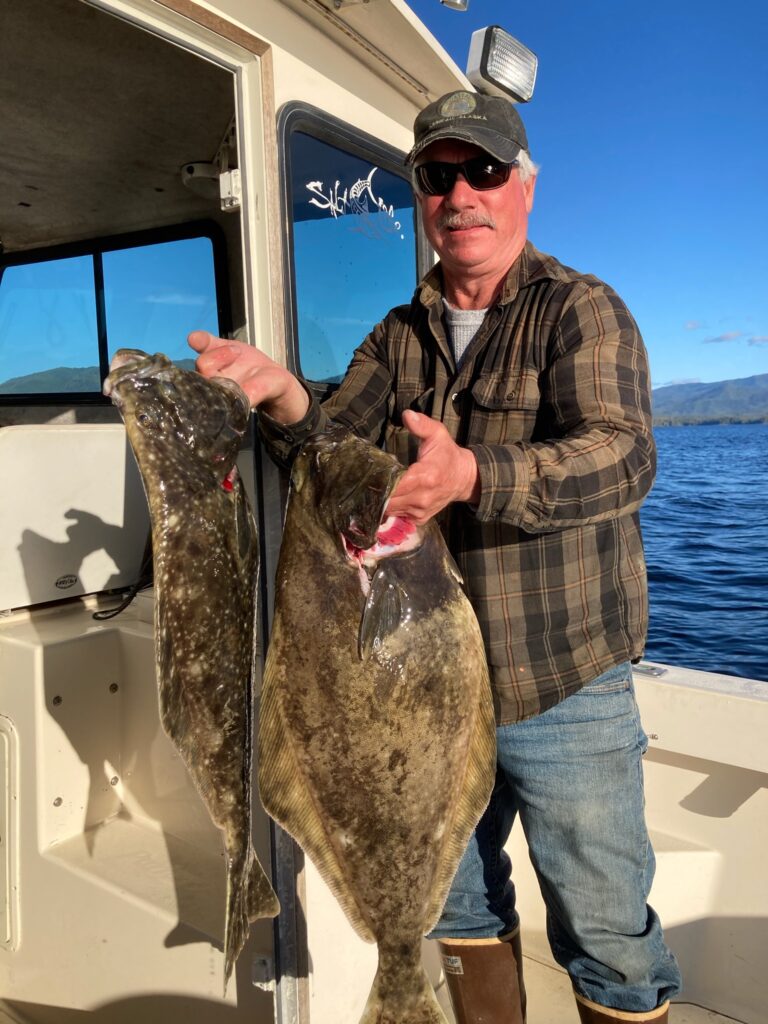 Halibut Fishing In Ketchikan – Back Trolling
As well as anchoring, back trolling for halibut can be an extremely productive method for catching halibut in Alaska. Because the current and wind can be offsetting, anchoring may not be the most effective method. Consequently, back trolling will be the answer. In addition, back trolling becomes beneficial when you're fishing large areas. In particular back trolling for halibut provides the ability to drift under control, hence you can cover more ground. 
How To Back Troll – Halibut Fishing Ketchikan
First and foremost using your preferred halibut fishing rigs, you position the boat and maintain your lines in a controlled drift. As a result of this you can properly fish a drift under heavy current while also keeping the lines effectively fishing the bottom. Certainly there's quite a bit of technique involved for those looking to back troll. Understanding the effects of the wind, current and waves will allow you to correctly keep the boat from drifting too quickly. Hence losing contact from the bottom and fishing out of the strike zone. Our Ketchikan halibut fishing charters back troll when the conditions are ideal and it's a great way to target halibut. 
Benefits of Back Trolling For Halibut
First back trolling for halibut allows the ability to cover alot of territory
Secondly it provides the ability to find the fish, rather than waiting for the fish to find you
Lastly if your in a highly concentrated area of halibut, the fishing can be fast and furious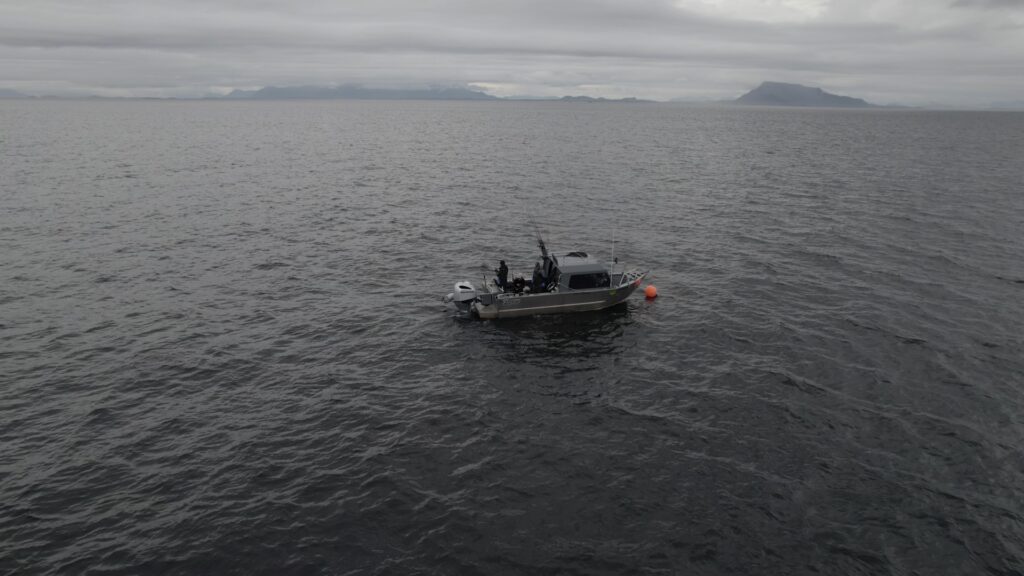 Trolling For Halibut Ketchikan, Alaska
Ketchikan fishing charters mistakenly will catch halibut when trolling for salmon. Needless to say, what if I told you that you could target halibut with trolling techniques? Of course trolling for halibut takes the most technical ability of all the methods of Ketchikan halibut fishing. With that being said, there's a time and place for every technique when the opportunity arises.
How to Troll For Halibut
Trolling for halibut in Ketchikan can be a fun and rewarding method of fishing. First off the sheer number of species you can catch while trolling for halibut include salmon, lingcod, rockfish and halibut. For example, our Ketchikan halibut fishing charters use electric down riggers to descend your halibut fishing rigs to the bottom. Furthermore you'll have the boat moving anywhere from 1-4 knots. Lastly keep an eye on your sonar so you can clearly navigate the contours of the bottom without hitting the bottom. For instance if the down rigger balls brush the bottom they can consequently break off. Down rigger balls anywhere from 10-16 pounds work best.
Trolling For Halibut – Benefits
First, the diversity of species possible to catch include; salmon, lingcod, rockfish and halibut.
Secondly, the ability to cover large halibut fishing areas when they seem to be spread out.
Lastly, most fish set the hook when striking. Making it a great method for anglers of any age and experience level.