First and foremost halibut fishing in Alaska is recognized amongst anglers worldwide as the epicenter for giant halibut. Reaching sizes in excess of 400 lbs halibut fishing revels in the mystery of what sea monsters lie beneath. Ketchikan halibut fishing takes you to deep waters where you'll be bottom fishing anywhere from 150-450 ft deep. Therefore the richest halibut grounds are 30 minutes to an 1.5 hours from Ketchikan ports. For this reason you'll find a list of factors of what's included in Ketchikan halibut fishing charters.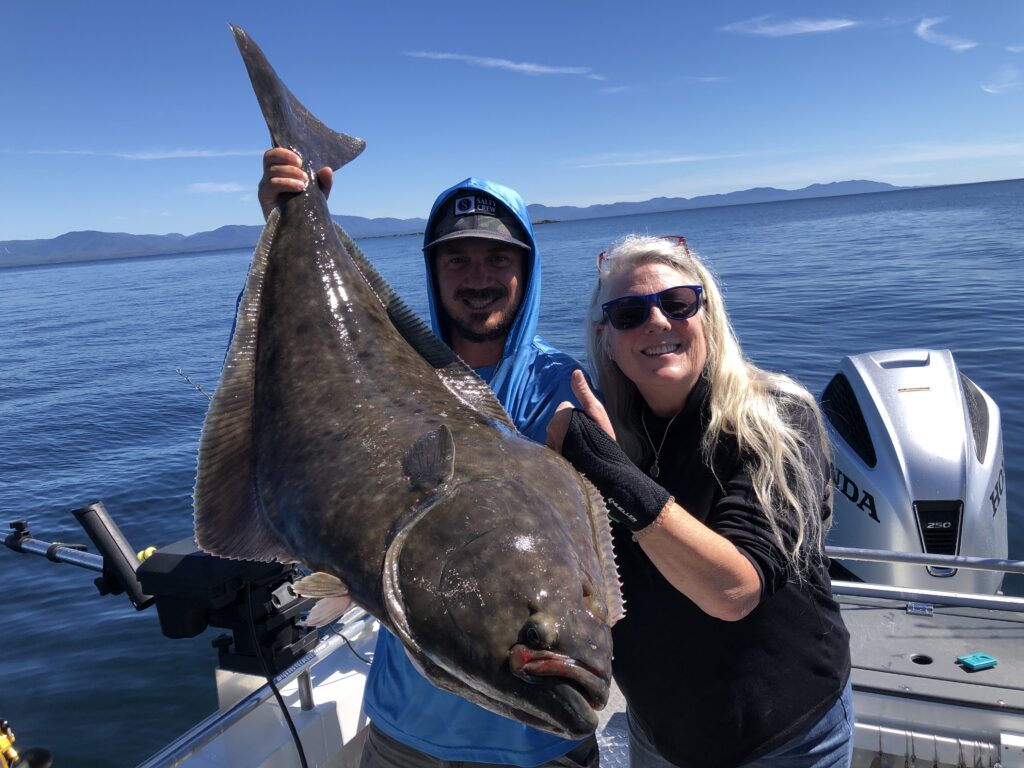 Just For The Halibut! – Halibut Fishing Tips and Techniques
Halibut are the largest of all flatfish in the world! In other words, do you embrace the hunt for a giant barn door halibut? Or the fast action pace of catching an abundance of salmon or rockfish you'll be jigging or soaking baits with heavy tackle in deep waters. 
Deep sea fishing rods geared with heavy braided line will keep you feeling for when the fish bites. Furthermore lead sinkers along with jigs will be deployed with glow-in-the-dark capabilities to really stand out in the deeper dark waters.
When your captain has you over the prime halibut fishing grounds he will bait up your halibut rigs. Then he will let everyone know to drop down to the bottom using a reel specifically meant to keep control of the descent down. Consequently the level wind reels are perfect for halibut fishing, no matter what the experience level of each angler.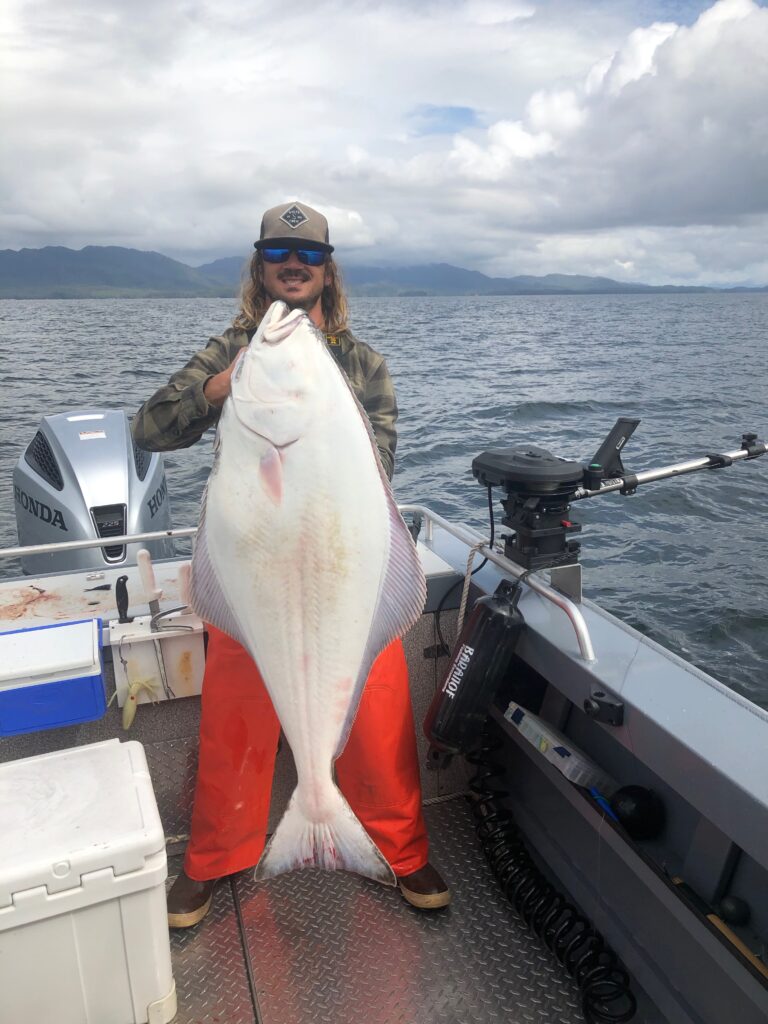 Halibut Fishing Ketchikan 
Once you reach the bottom you will begin to jig or soak the bait above the bottom. As a result of the conditions, such as depth of water, current and bait concentration, your captain will tell you which method is best. Jigging lures and soaking baits are discussed more in halibut fishing tips.
Halibut Fishing Alaska: Great For All Ages And Experience Levels
Halibut fishing is great for first time fishermen or experienced anglers alike. This is because the way halibut eat and feed really levels the playing field for all anglers. In turn this makes it a perfect fishery for men, women, and children, no matter what their age or experience level.
Halibut Fishing Baits, Lures, And Jigs
Typically the best
halibut fishing
baits are oily baits like herring, salmon, and cod. Nevertheless halibut feed by smelling their food, so the oilier the bait the more scent it will distribute on the bottom. Our Ketchikan halibut fishing charters combine not only oily baits, but a glow-in-the-dark skirted squid lure to pair up for a lethal combination. Depending on the time of year, temperature of water and food source available, you can be sure your captain will have the best fresh bait options available.
Finally, halibut feed by ambushing and grabbing their food prior to inhaling. For this reason we instruct our clients to let the fish take the bait completely before jerking tight and setting the hook.
Depending on if you're using J hooks or circle hooks will dictate the instructions for how to set the hook. If you're patient enough the
halibut
will engulf your bait and the fight of a worthy adversary will ensue.
Catching Halibut In Alaska
Halibut are extremely strong and catching them in deep water makes it quite the task. Moreover pace yourself throughout the fight as most likely it will take some time. 
Ketchikan's Finest Fishing Charter boats are built to give you assistance if needed. With that being said there's a series of rod holders placed around the boat one can secure the rod and reel to alleviate pressure from the shoulders and wrists.  
Another reason why
halibut fishing in Alaska
is meant for all ages and experience levels. Once your fish takes the hook, it's a steady retrieval to the surface where your captain will secure the fish and get some amazing pictures.
Epic pictures before icing down the prized halibut meat. The allure of bringing in a trophy halibut has Alaska fishing clients returning each and every year.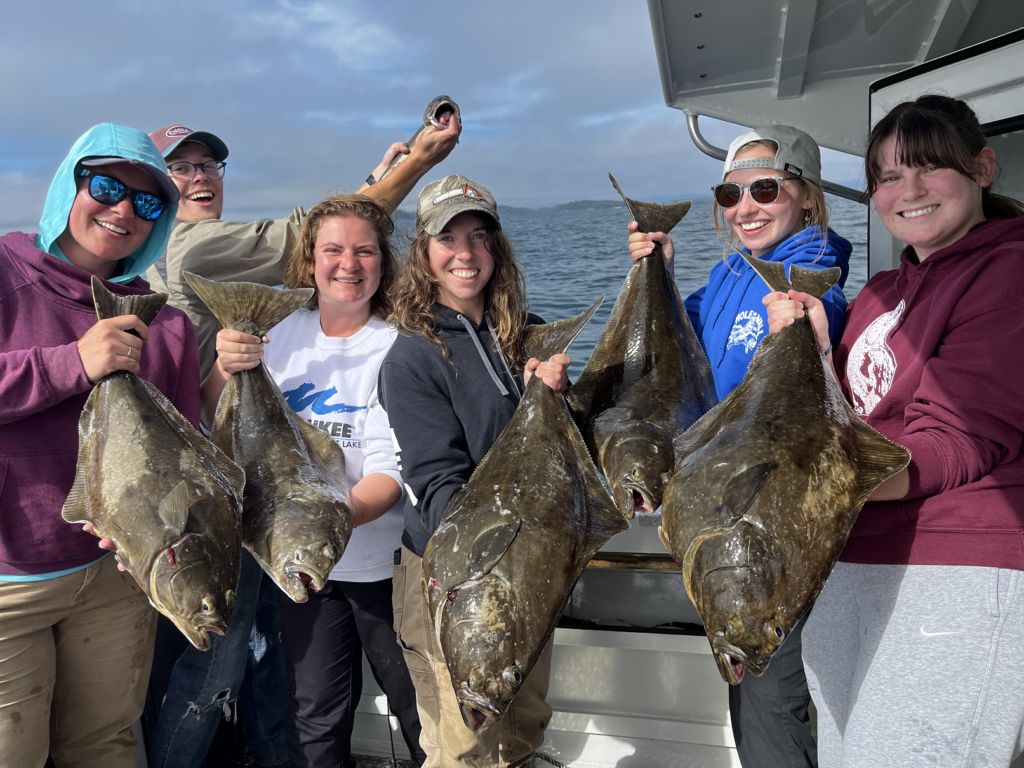 Adventure Awaits, Book Your Customized Alaskan Fishing Adventure Now!
Ketchikan's Finest Fishing Charters offer the premier guided fishing service in all of Ketchikan. We take the guesswork out of your Alaska fishing adventure. Setting you up with the most expert captains on the best boats. Having a track record for excellence as seen through our reviews on TripAdvisor and Google paints a clear picture.
All you have to do is
inquire
about when you're arriving, what you want to catch and we'll set up a completely customized trip for your group. We also fish directly out of the downtown area. Whereas you don't have to book a taxi or take a bus to fish up north where you're shuttled 30-45 minutes away.
Consequently from town and away from the best fishing grounds. In conclusion this means more time for your group fishing at the best fishing grounds. So sit back and relax. You've already done the right homework to find the best charter fishing experience for your group.