The second week of June resulted in hit and miss fishing with both the halibut fishing charters and king salmon fishing charters. It's one of those weeks that wouldn't hold a distinct pattern and left our charter clients putting in the maximum efforts to get the rewards desired. As the saying goes, "Somedays it's fishing and not just catching", even in this world class Alaska fishery. With that being said our hard work paid off with catches of halibut, king salmon, pacific cod and pelagic rockfish.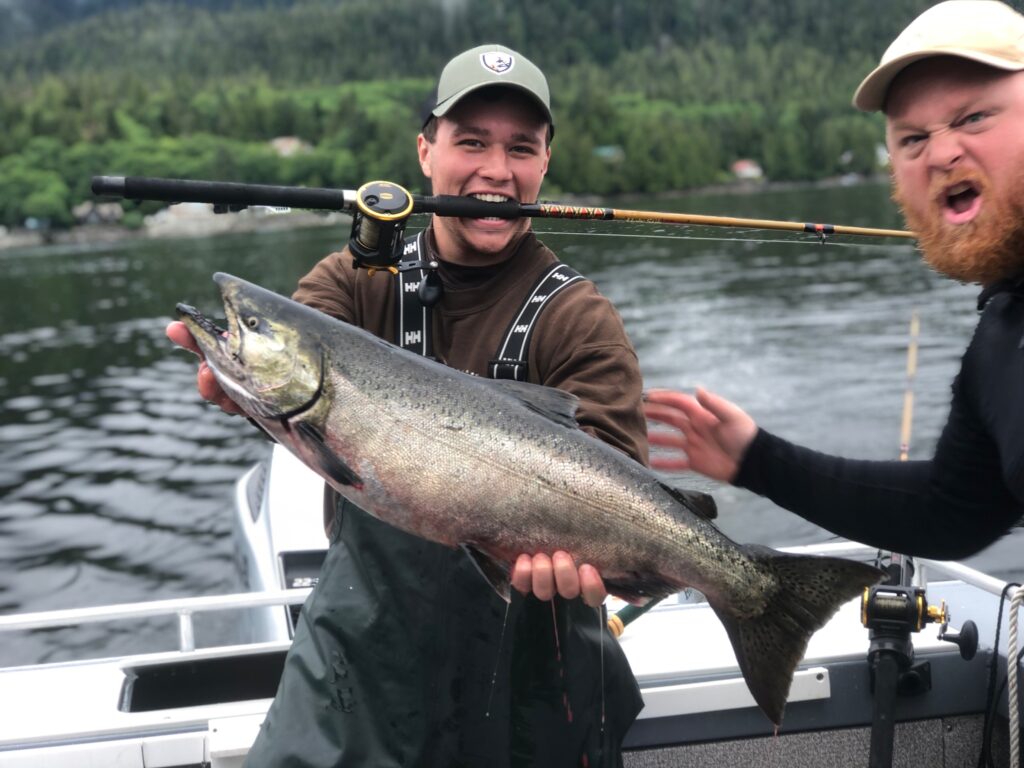 Halibut Fishing Excursions Ketchikan
Fishing for halibut in Ketchikan has to be on the minds of so many when they visit this wild Alaskan fishing nirvana. The sheer symbolism of giant halibut haunt anglers minds when they come to visit Alaska to pursue these massive bottom dwellers. This week the halibut gave our fishing clients a run for their money as they persisted to be challenging to find. One day they're in 200 feet of water and the next day they're gone and halibut fishing clients had to drop down to 300 feet of water. This up and down fishing kept our clients arms burnt out by the end of the days halibut finding excursions here in Ketchikan. However, here at Ketchikan's Finest Fishing Charters we don't mind embracing the hunt and the results showed with giant halibut being caught along with charter sized halibut dedicated to fish processing and shipping home to enjoy with family and friends. 
Ketchikan Salmon Fishing Charters
Salmon fishing excursions started to really heat up this week as more king salmon showed up in the restricted opener near Mountain Point and Herring Cove. Ketchikan is known as the, "Salmon Capital of The World" and this years king salmon run doesn't look to disappoint. Many anglers got in on the action with commercial fishing boats, charter fishing boats and recreational anglers enjoying their first opportunity for a fresh caught wild king salmon. The area rewarded anglers with smiles abound for each king salmon landed, and what a special time of year as the nostalgic moments mark the beginning of the Alaska salmon return.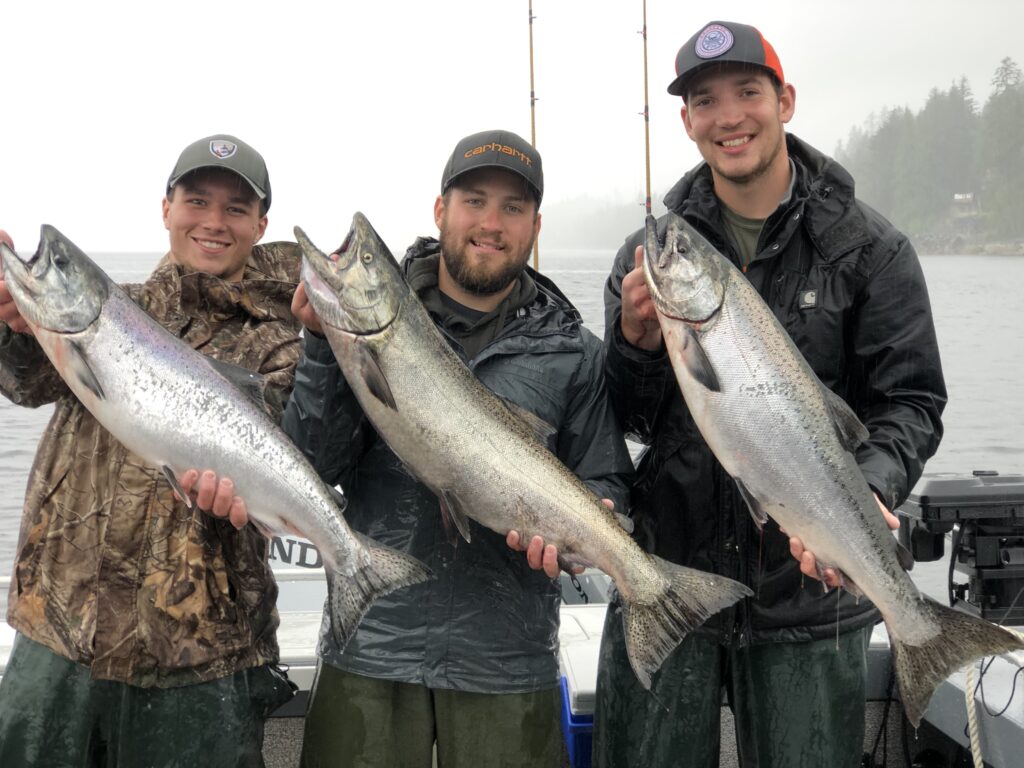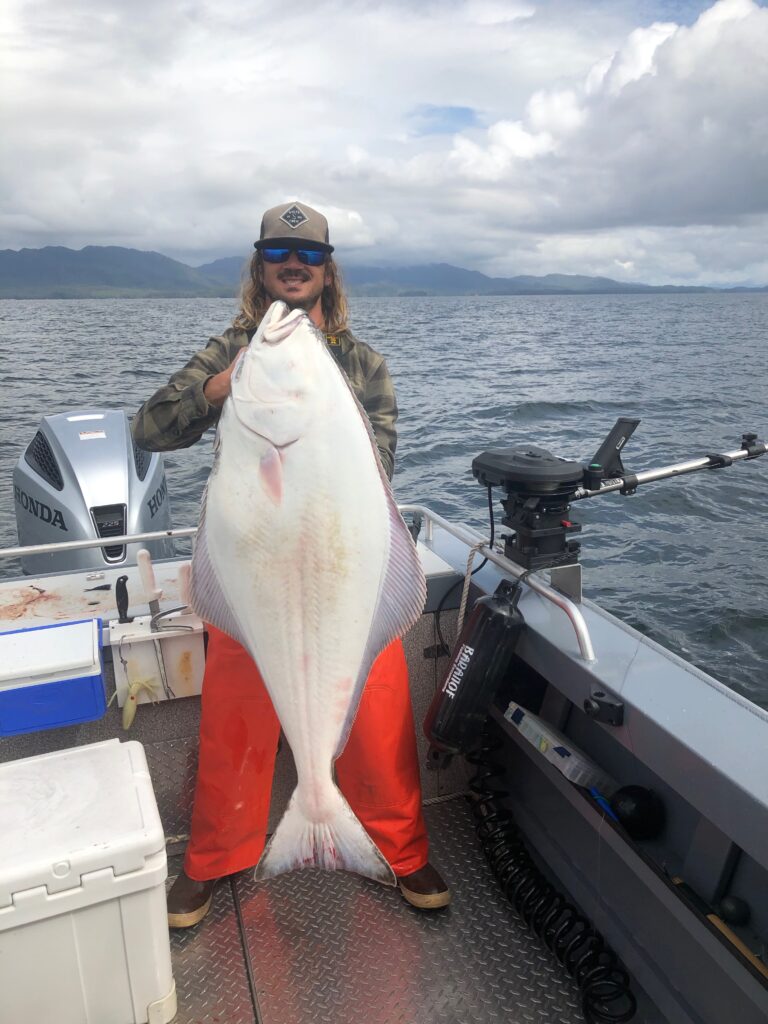 Ketchikan King Salmon Fishing in June – What to expect
Salmon fishing charters in Ketchikan this time of year are based on picking clients up from downtown Ketchikan and heading out to either Mountain Point, Herring Cove, or Carrol Point. The advantage of this fishery for cruise ship clients is double headed. These Ketchikan king salmon trips are a short 15 minute boat ride from town with plenty of wildlife to see along the way; including eagles, whales, and seals. Once reaching the salmon grounds our expert captains setup state of the art equipment including trolling down riggers to get you on the fish. Consequently with the king salmon running deep this time of year, the majority were caught trolling along the coast of the opening area with  these exact trolling setups. King salmon ranging from 8-15 pounds were the most commonly caught, with the occasional 20 plus pounders in the mix. 
Ketchikan Halibut and Salmon Combo Charter
For those cruise ship guests that booked the halibut and salmon combination charter they were able to experience both sides of this amazing Alaska fishery. During the middle of the week we had a good spurt of fish when we anchored up for halibut and pacific cod and saved enough time for salmon fishing. Fortunately on the run back from the halibut grounds lie the salmon fishing grounds open for king salmon. So we setup the salmon fishing trolling gear and put out a maximum amount if lines to increase our chances at landing the big one. As you can tell from the pictures we had great luck with our specialized and top secret salmon rigs. Whether your visiting as a cruise ship guest or flying in for a multi-day fishing trip, this halibut and salmon combination charter is one of highest recommended trips regardless. Make sure ton give us a call or book directly in the website to get your trip confirmed for an Alaskan adventure of a lifetime.