Ketchikan Salmon Fishing Charters – Ketchikan is the "Salmon capital of the world" and for good reason!
Trolling for Salmon is a bucket list experience fishing for wild Alaskan salmon. This world class fishing excursion is  perfect for all ages and skill levels. 
Ketchikan Halibut Fishing Charters – JUST FOR THE HALIBUT!
Catch Halibut, Cod, Rockfish and Sharks deep jigging in the rich Alaskan waters. This bottom fishing focused adventure provides your group with memories of a  lifetime.
Ketchikan Halibut and Salmon Combination Fishing Charters
Whether it's trolling for Salmon, bottom fishing for Halibut, or jigging for rockfish and lingcod, we do it all! This charter  option is also offered for full day and multiple day in town clients.
When deciding which species to target regarding halibut or salmon there's a few factors worth considering when making your choice of the best Ketchikan fishing charter to book. Whereas what kind of experience are you looking for? While both species offer something unique, there's also the option for a combination trip that includes both salmon and halibut, along with lingcod and rockfish.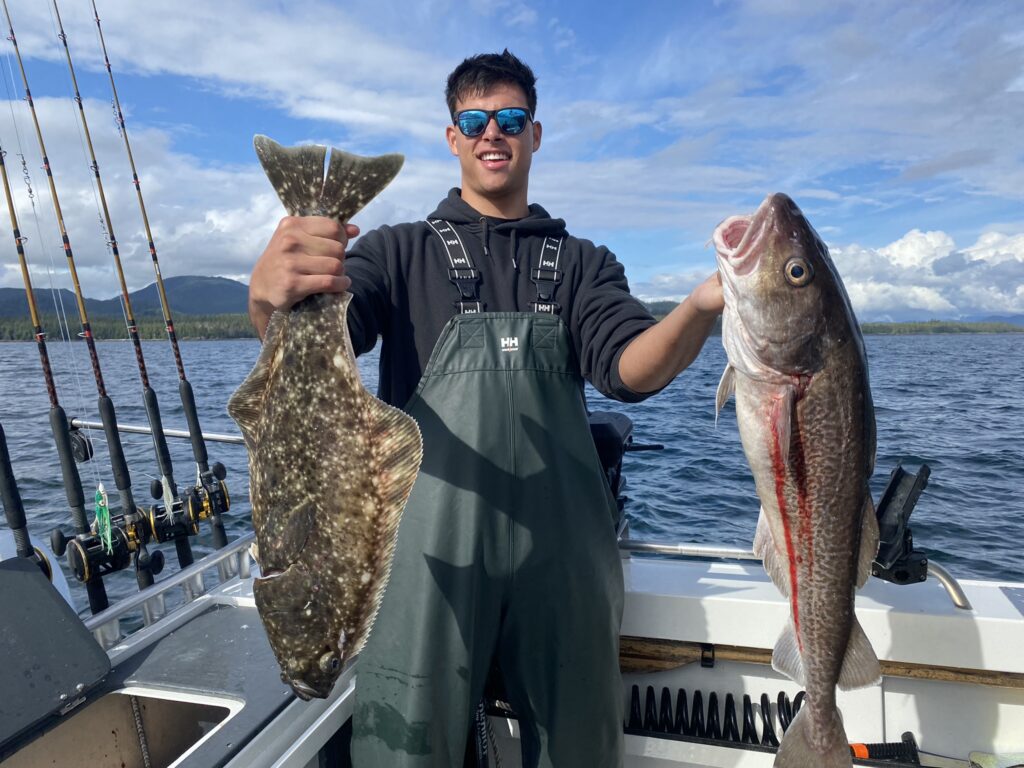 Ketchikan Fishing Tours: Things to Consider – Halibut, Salmon, Rockfish 
Ketchikan Fishing Tactics and Trip Durations
Deep water jigging for halibut vs trolling for salmon 
The amount of time you want to spend on the water
Do you embrace the hunt for a giant barn door halibut? 
Or the fast action pace of catching an abundance of salmon or rockfish
Which fish do you prefer to eat? 
Halibut, Rockfish and Cod are a white meat fish with flaky, lean texture, and a mild to sweet meat flavor. Wild Salmon is an oily meat high in omega fats and has a color ranging from orange to dark red. Additionally salmon has a distinct flavor profile revered in the culinary world.
Is it a meat-hunting trip intended to fill the freezer 
Or an experienced-based trip with wildlife viewing included 
Or book a Ketchikan combo Halibut, Salmon and Rockfish charter fishing excursion to experience every species on offer
There are perks to all Alaska fish species, including halibut and salmon.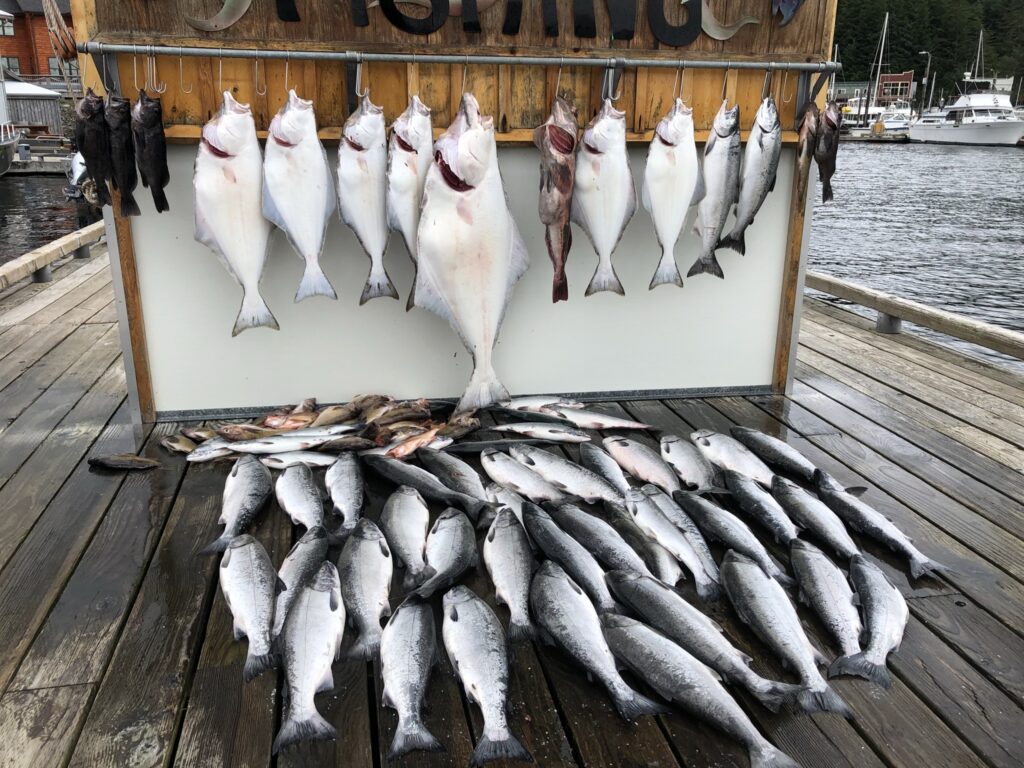 Adventure Awaits, Book Your Customized Alaskan Fishing Adventure Now!
Ketchikan's Finest Fishing Charters offer the premier guided fishing service in all of Ketchikan. We take the guesswork out of your Alaska fishing adventure. Setting you up with the most expert captains on the best boats. Having a track record for excellence as seen through our reviews on TripAdvisor and Google paints a clear picture.
All you have to do is
inquire
about when you're arriving, what you want to catch and we'll set up a completely customized trip for your group. We also fish directly out of the downtown area. Whereas you don't have to book a taxi or take a bus to fish up north where you're shuttled 30-45 minutes away.
Consequently from town and away from the best fishing grounds. In conclusion this means more time for your group fishing at the best fishing grounds. So sit back and relax. You've already done the right homework to find the best charter fishing experience for your group.