Early season Halibut fishing in Ketchikan, Alaska hasn't disappointed. The most productive  areas have been anywhere from a 30-minute boat ride from downtown Ketchikan out to one  hour away from downtown. For this reason the five-hour halibut fishing charter and the six-hour halibut fishing charter have yielded the best results. Understanding the fishery and the influence of temperature of the water gives our expert captains a leg up in knowing where and when to take you to the best halibut fishing spots in Ketchikan.  
Big Halibut Fishing Ketchikan 
Our halibut fishing charters are seeing big barn door halibut being caught regularly out of  Ketchikan, Alaska ports. May is considered early for the best halibut fishing in Alaska, but  continues to impress as an opportunity to land a trophy halibut while bottom fishing.  Furthermore, these giant Alaskan halibut have been mixed in with the smaller halibut we refer to as chicken halibut and revered for their high quality tasting meat. With that being said, the  consistency of catching continues to ramp up as the water elevates and the chicken halibut  have been keeping clients busy, while the giant halibut have been highlighting the day's  catches. Fortunately the diversity and opportunity to catch chicken halibut ranging from 10-40 pounds with the occasional halibut over 100 pounds has been an enjoyable experience for fishing charter clients. 
Ketchikan Best Halibut Fishing Spots 
The best halibut fishing spots in Ketchikan during the month of May have been near sandy  areas with mud and gravel mixed in. Of course halibut can be caught in a multitude of bottom contours and makeups, but it seems these areas have produced at a higher and more consistent level than others. Halibut fishing with heavy weights and jigs in waters upward of  300-400 feet deep continue to see the best results. Halibut fishing charters in Ketchikan that target humps, pinnacles and sea mounts where the bait concentrates will find the highest probability of catching a trophy halibut.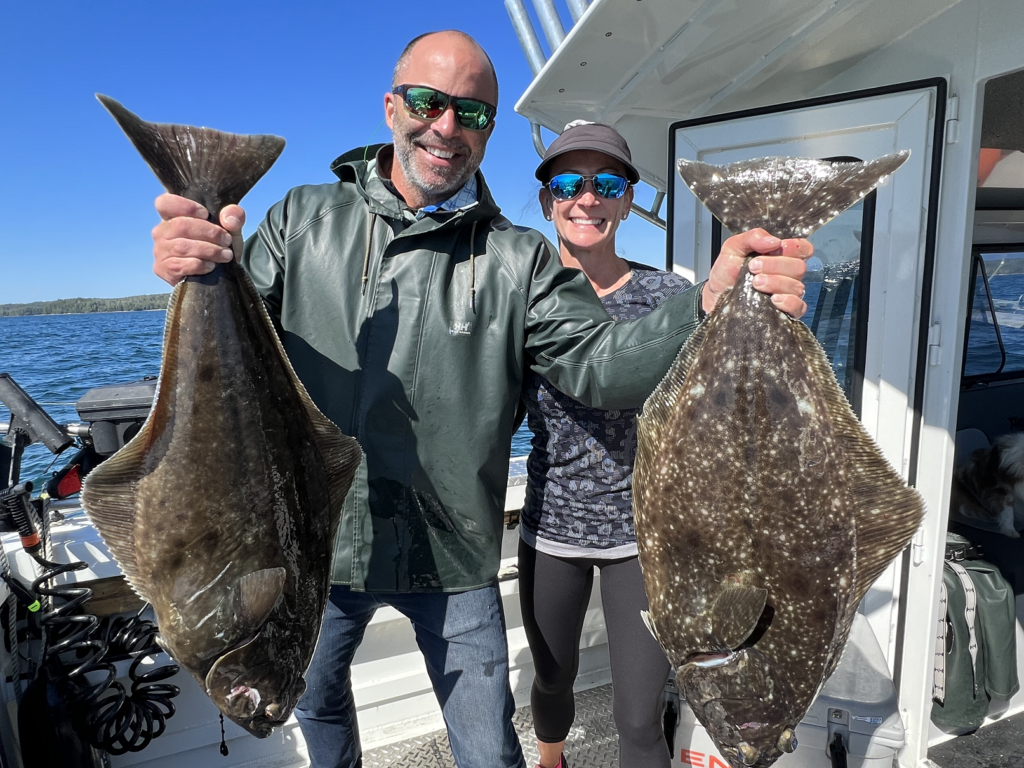 Halibut Fishing Pro Tips 
While halibut fishing these deep dark waters we rig our fishing equipment up with glowing  squids paired with fresh bait. In other words, we make the squid lures stand out in the dark by  glowing and illuminating surrounding waters. Not only do we have glowing lures, but in addition  to the glow we add fresh cut herring that adds an intense scent profile to this deadly  combination that halibut simply can't resist. Coaching our clients to success we've seen an  incredible hookup ratio as patience pays when you get a halibut bite on the line. Be sure not to jerk and steadily reel down until you feel the line tighten and the rod bend. Now that you have a giant Pacific halibut on the line, play them out and take your time, reeling in these giants from the depths is no easy task.  
Halibut Fishing Charters in Ketchikan: Pacific Cod and Rockfish 
With all the attention on giant pacific halibut in Alaskan waters, people often forget about the less infamous species such as Pacific cod and rockfish. As a consequence of this we've seen charter fishing clients pleasantly surprised to pull up massive pacific cod and rockfish while halibut fishing in Ketchikan. The reason this takes place is because the Pacific cod and rockfish are feeding on identical food sources to the halibut and cohabitate similar waters. Pacific cod and rockfish are being caught on traditional Halibut fishing rigs along with jigs, swimbaits and grub tails.